Shandong Janssen Energy Science Technology Co., Ltd.
Shandong Janssen Energy Science Technology Co., Ltd. was founded on August 16, 2019, located in the High-tech Zone of Weifang City, Shandong Province, covering an area of 13109 m2, and is cooperating with "Rock Valley" to build 1.5 million meters in Weifang ³/ Helium sub-packaging plant in. In the future, it will deepen cooperation with "Rock Valley" in energy, gas and other related industries, and accelerate the layout in the surrounding areas of Shandong.
---

1. Compressed gas liquefied gas, helium [compressed or liquefied], nitrogen [compressed or liquefied], carbon dioxide [compressed or liquefied solid];
2. R&D and sales of standard gas and mixed gas;
3. General cargo, special cargo transport (container, tank), and dangerous cargo transport (category 2, item 1, category 2, item 2);
4. There are warehousing operations: compressed gas liquefied gas: argon [compressed or liquefied], oxygen [compressed or liquefied], neon [compressed], krypton [compressed], xenon [compressed or liquefied], carbon monoxide, sulfur hexafluoride, methane, propane, acetylene, hydrogen, sulfur dioxide, 2-methylbutane, n-pentane, ethane, nitrous oxide [compressed or liquefied], n-butane, ethylene oxide, nitric oxide Ammonia, nitrogen dioxide, hydrogen chloride (anhydrous), carbon tetrafluoride, mixture gas (helium argon mixture, hydrogen helium mixture, nitrogen hydrogen mixture, helium nitrogen mixture, argon hydrogen mixture, argon carbon dioxide mixture), standard gas (oxygen in nitrogen, hydrogen in nitrogen, carbon oxide in nitrogen, nitrogen oxide in nitrogen, carbon hydride in nitrogen, nitrogen hydride in nitrogen, sulfide in nitrogen);
5. Operations without storage facilities: hydrogen sulfide, propylene, benzene, carbon disulfide, hydrogen and methane mixture
Hexane, n-pentane, n-butane, isobutane, trifluoromethane, nitrogen trifluoride, octafluorocyclobutane, boron trichloride, hydrogen bromide, silicon tetrachloride, silicon dichloride, deuterium gas, tritium gas, methanol, ethanol, silane, phosphane, arsene;
6. Sales, installation, maintenance, leasing and installation of hardware products and electromechanical equipment.
7. New energy technology promotion service; Import and export of goods or technology;
Shandong Janssen Energy Science Technology Co., Ltd. takes "the principle of simplicity, integrity, cooperation, responsibility, diligence and efficiency" as its corporate code of conduct. The company's mission is to be the cultivator and pioneer of the industry; With the vision of being a century-old enterprise, serve thousands of customers, strive to improve the competitiveness of the company in the same industry, and establish a good image of the company in customers and the public; Make the company's vision, mission, values and management ideas deeply rooted in the hearts of employees, while maintaining the unity of the company's culture and values.

The main road is simple and square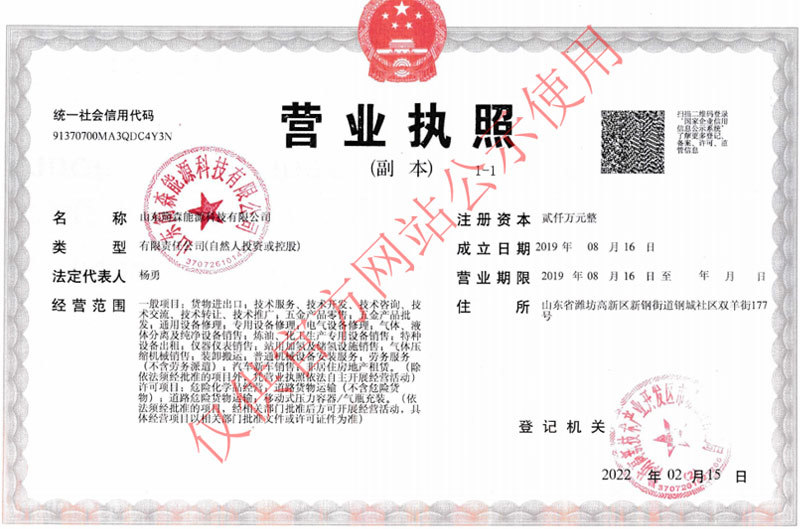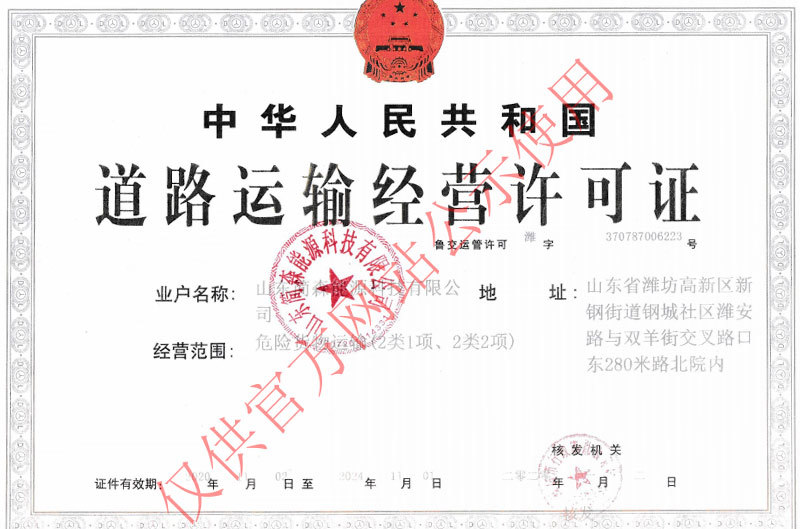 Road Transport Business License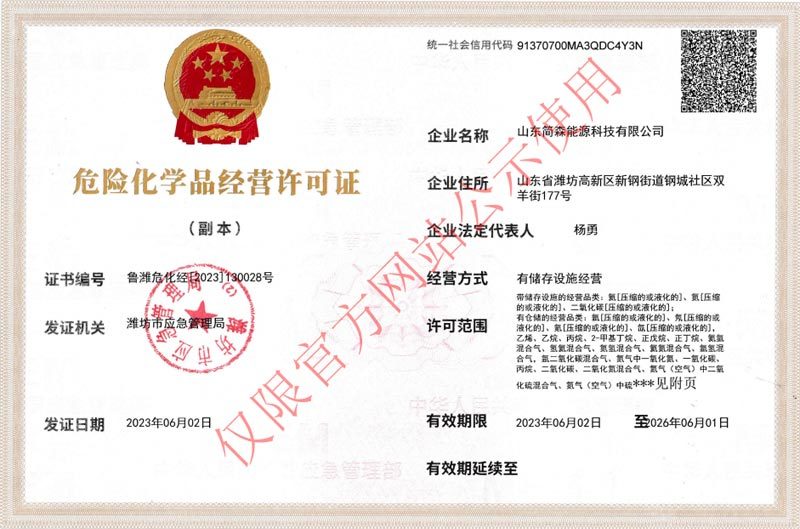 Hazardous Chemical Business License
Hazardous Chemical Business License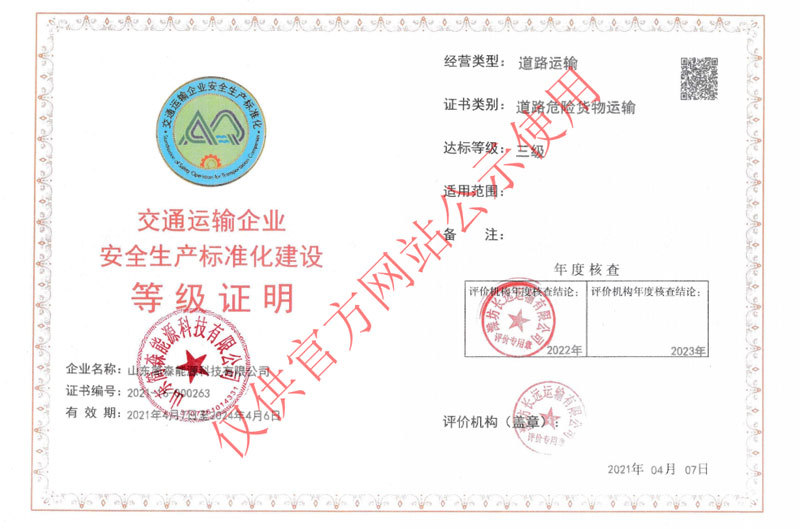 Certificate of Safety Production Standardization Construction Level for Transportation Enterprises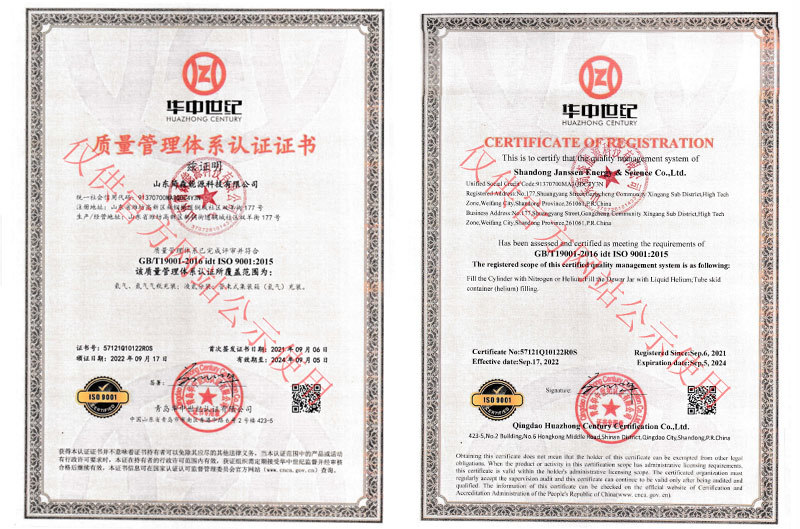 Quality Management System Certification
Filling License of Transportable Pressure Vessel People's Republic of China
The main road is simple and square

01
Be the cultivator and pioneer of the industry
02
Be a century-old enterprise and serve thousands of customers

03
Committed to meet customers' needs with all quality and value
04
Sustainable development provides substantial returns to shareholders, respects the society and the natural environment

05
Responsibility to customers, shareholders, society, environment, and employees